Welcome!
I am so glad that you are here!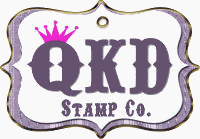 Didn't you just love
Kapree's blog
, your last stop before mind on the QKD blog hop? Her blog is designed so impressively, I just loved visiting it.
The Queen Kat Designs Stamp Company (QKD) challenged me to do a fall themed hand stamped card. I did a fun little play on words and did a motivational card with the quote:
"Turn your face to the sun and the shadows FALL behind you."
I added a few more fall themed elements to the card with a shedding tree stamp, and handstamped a leaf from my yard on paper to create the leaf in the background. All these are surrounded by beautiful shiny copper! My absolute favorite crafting color. I used a copper leafing pen to shade some Tim Holtz Idea-ology embellishments in more of a copper color. Lastly, some vintage lace trims the page at the bottom for just a little charm.
This motivational card goes perfectly with my current series of posts in honor of National Breast Cancer Awareness month. I have been posting some pictures of gift projects that I have been making for breast cancer patients and survivors. I'll have to send this card out to someone special that I know who is affected by this horrible disease. Hopefully it will cheer her up.
Scroll down to see my previous posts for more inspiring projects.
BLOG CANDY!!
I am giving away some Blog Candy this month! Read below for instructions on how you can win. One name will be selected at random and posted at this blog on Sunday, October 17th.
One prize will be awarded which contains two StazOn ink pads. One in Timber Brown, and the other in Jet Black. Enter today for your chance to win. You have three chances to win. Here is how:
1. Just simply comment below for your chance to win. One comment per person, please.
2. Contribute to my Breast Cancer research fundraiser benefiting the
Susan G. Komen
society for an additional chance to win. Click on
this link
and give to their efforts to find a cure. Any amount will do, even if you can only give very little. You too can make a difference. Please give what you can.
3. Subscribe to my blog for an additional chance to win. Simply click on this link below and subscribe today.
Thanks for stopping by! Check out
Penny Hartley's blog next by clicking here
. Her blog is beautiful!
Please use the links below to share this post with friends via facebook, twitter, Google Buzz, or email.